Winterbike 2023
February 25 @ 9:00 am

-

5:00 pm

Presented by Lawson's Finest Liquids and Sram, WinterBike is Vermont's premier Fatbike Festival. Now in its 11th year, the event continues to be the favorite among fatbike enthusiasts. The event is headquartered at Mike's Tiki Bar and hosted on the Kingdom Trails network, boasting over 31 miles of cold-rolled singletrack!
In keeping with tradition, Winterbike will include the usual crowd pleasing ingredients including a ride, remote aid station, after party catering by Ranch Camp, and so much more!
Only 250 tickets available, and for the first time, KT and MTBVT are offering a discount to Northeast Kingdom (NEK) residents! To qualify, you must be a full-time resident of the NEK. NEK full-time residents will receive a $10 discount! Use discount code NEKRESIDENT at checkout.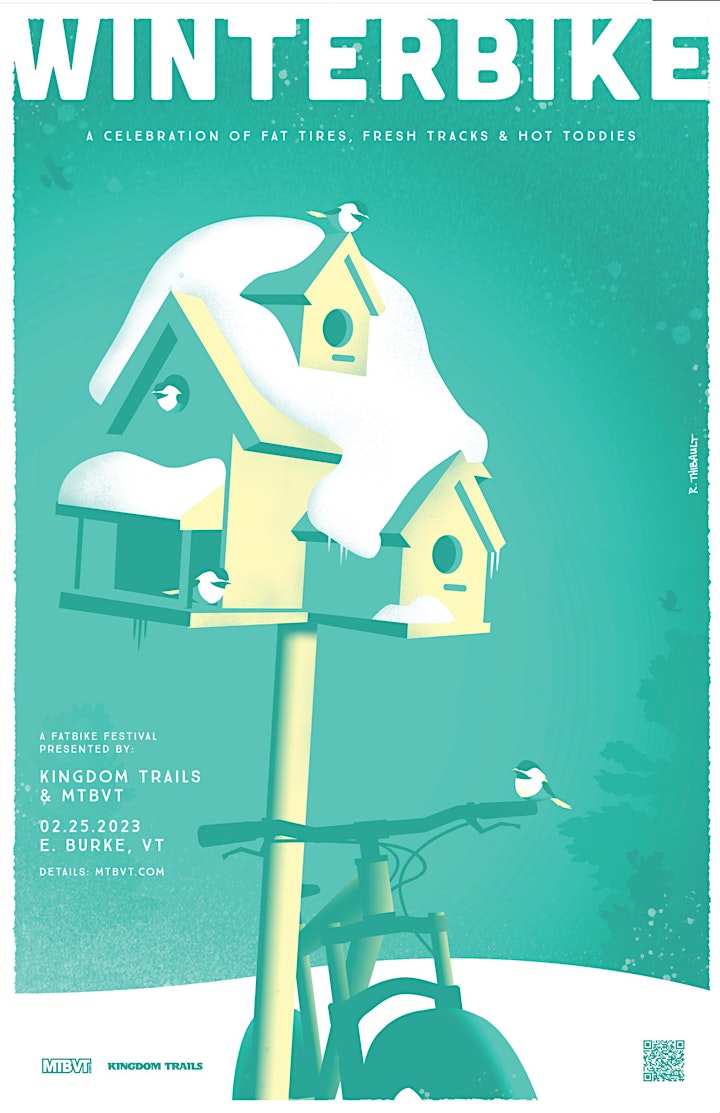 We'll be mapping and signing a loop suitable for all abilities and will be sending riders out in two waves (advanced-expert followed by beginner-intermediate) following the course. Ride at your own pace, with your friends, stay at the aid station as long as you please, and return with everyone to the KT HQ party!
Capped at 250! This time we've raised the cap to reflect the growth of this event. Tickets will sell out so don't wait to register! We've capped the event to 250 participants total.
Registration for the event gives you access to the Kingdom Trails network and all Winterbike activities on Saturday including the ride route, lunch and beverages, music, fire, the Lawson's Finest Footdown World Championships, and swag!
TENTATIVE SCHEDULE – As the day approaches we'll be adding details of the event. Timing is subject to change based on the forecasted temperatures for the day. As we all know, fatbiking is snow condition and weather dependent so planning out the day will be an organic experience…
Local shops to contact for Fatbike rentals:
East Burke Sports, Village Sports Shop, Littleton Bike and Fitness, Ranch Camp
Looking for more lodging options? Check the Accommodations listings at www.kingdomtrails.org
Reservations at any of the local restaurants are strongly recommended for that evening.
We look forward to hosting you all at Winterbike 2023. See you on the trails!
See the Kingdom Trails e-bike policy HERE!
Are you an attendee and have a question?
Contact ryan@mtbvt.com
Are you a vendor and have a question?
Contact lukas@kingdomtrails.org