2023 Leaf Blower Fall Classic
October 14 @ 8:00 am

-

6:00 pm
**PLEASE NOTE: there is no onsite event parking at Ranch Camp. All event parking is in satellite parking lots. See parking map at bottom of page.
MTBVT, in collaboration with Stowe Trails Partnership & Ranch Camp, is stoked to present Vermont's favorite autumn mountain bike tradition: the 12th annual Leaf Blower Fall Classic Mountain Bike Festival! This year's Leaf Blower is going down on Saturday, October 14th and will be hosted at Ranch Camp on Mountain Road in Stowe. With amazing riding for all ability levels, awesome vendors, homegrown food, local libations, and live music, there is simply no better way to cap off the season than with this one-day community bike bash.
As always, the marquee draw will be the rides, tackling some of the northeast's best terrain and affording some of Vermont's most epic views—whether you're an endurance-guru or a newbie-never-pedaled-before, we have charted a singletrack loop for you, that'll pass multiple aid stations, and maximize the fun!

NEW FOR 2023 – Join us Friday evening at The Backyard (across the lot from Ranch Camp) for a pre-registration party! Come early, meet and greet, get stoked, and avoid the morning rush. We'll be gathering at the Backyard Friday evening from 6:00pm to 8:00pm. Join us!
* It's Friday the 13th but hockey masks are not required. *
This year, MTBVT will be hosting a must-attend remote party station complete with food and drink, tunes, a photo booth, circus animals, free tickets to the Oprah show and a chance to win a NEW CAR!!! OMG!!!! Wheeeeew! We got a bit carried away there. OK, only some of that is true (food, drink, tunes, photo-booth) but we guarantee the amazing remote party part!
And after you've gotten your share of single track and remote party vibes, adjourn back to Ranch Camp HQ for a catered cookout, a few local brews, music, and the requisite telling of tall tales around the campfire. Your registration fee covers the rides, vendor garden, snacks, a post-ride beverage, dinner, a limited edition signed print, and entry to the after party!
Register early because we expect the event to sell out. Plus you'll save some bucks and we'll sleep better knowing you'll be attending. And you can feel better about biking all-day at the Leaf Blower because this is a Stowe Trails Partnership fundraiser with proceeds from this event going back to building and maintaining Stowe's trails. Win win!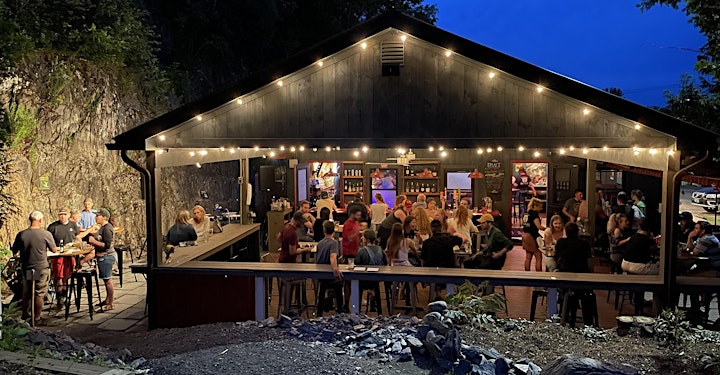 Early Bird pricing is open! So register early, rest your legs, and get ready for the best day of the year in support of our trails!
For updates and event info stay tuned to the MTBVT and STP Facebook and instagram propaganda machines.
Party people, we'll see you on Saturday, October 14th! This is a rain-or-shine event, but in the event of a total monsoon we will refund your dough and we all go canoeing in the Ranch Camp parking lot.
Friday Schedule
6:00 – 8:00pm Prereg' party at the Backyard
Saturday Schedule
7:30 Vendor setup
8:30 Registration opens
9:30 – 11:30 riders depart
10:30 – 2:00 MTBVT remote aid station open
12:00 – 5:00 food is served
**Parking during the event: Due to limited parking, Ranch Camp will not be able to park any cars at their location. Please plan on parking at the Springer Miller Parking Lot (overflow parking will be at the Mayo Farm Field) and bike commute to Ranch Camp from the parking area (consider this a nice 8-minute warm-up!). Please review these maps for both driving directions to the parking area and biking directions to Ranch Camp. A bag check area will be available to store gear and bags while riding!